Our collection of resources based on what we have learned on the ground
Digitalizing Your HR and Payroll in Asia: Value, Scale, and Compliance for the China+ Business
Multimedia
Presenter(s):
Today, global companies expect their HR and Payroll processes to move faster and more accurately. However, many companies are finding just the reverse - their processes are mired in slow-moving processes, are not integrated well, and are now also at risk of infringing on new data privacy frameworks - particularly for companies with offices in China and throughout Asia.
A myriad of recent changes within Asia's various digitalization, corporate, and regulatory landscapes, challenge companies that operate in Asia with changes occurring at an even faster rate than elsewhere globally. Leaders of HR and operations for companies in these markets face leap-frogging technologies, rapidly changing working environments and employee expectations, as well as the sudden rise of several new data privacy frameworks and compliance requirements across Asia.
Combined with large and growing headcounts, the impacts of these changes can be significant and be difficult for executives, HR, and IT teams to solve without the right cloud-based, and fully compliant HR management systems or software in place.
In this 40-minute live webinar, David Niu, our Partner and the Head of HR and Payroll division at Dezan Shira & Associates, will explain how the China+ Asia landscape is rapidly changing with accelerated digital transformation, complex regulatory frameworks, and more challenging compliance requirements across the landscapes of the operations they manage. He will then delve into how today's HCM apps should be addressing these issues, accurately and at speed to help China+ companies become more effective people organizations in Asia.
Takeaways from this webinar:
China+ regulatory changes across China, Hong Kong SAR, Vietnam, and Singapore,
Insights into Evolving HR Landscape: Recruitment and Retention Trends, Challenges, and Solutions in the Asia Region
Asia regional data privacy frameworks and approaches (e.g.: PIPL, PPPL, PDPA, and GDPR)
China+ technology landscape from a Global/Asia HR perspective
Is your HR software keeping pace with your growing Asia business?
How asiaadmin® Cloud helps build better value, scale, and compliance for China+ businesses
This webinar is FREE of charge.
For any questions or concerns, please contact Freda CHEN, at freda.chen@dezshira.com. We look forward to having you join us in this webinar, and answering any questions you might have on the subject.
Special Offer to Corporate Attendees: Human Resources and Payroll in China 2023 Guide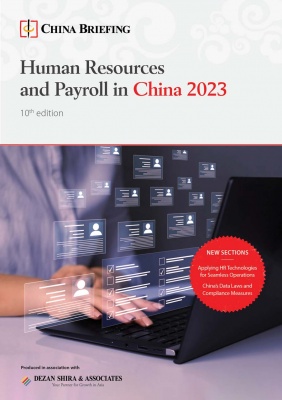 As a special thank you, valid corporate attendees* of this webinar can receive a sponsored-free full copy of our Human Resources and Payroll in China 2023 guide after the event - courtesy of Dezan Shira & Associates' China HR and Payroll team.
Our 10th annual edition of the Human Resources and Payroll in China 2023 guide provides 157 pages of in-depth information about managing HR and payroll in China, for executives and HR leaders of foreign businesses operating in China.
This year, the guide includes added feature sections about navigating China's newest HR and payroll management-related laws and regulations, and introduces new sections for HR technology, and data privacy requirements - an increasingly important HR issue in China.
The Human Resources and Payroll in China 2023 guide can also be purchased at our bookstore.
*Offer Terms and Conditions
To be eligible, participants must register with their corporate business email address by August 29th 2023, attend the live webinar, and be deemed by Dezan Shira & Associates to not be a competitor of its group of companies. The publication will be sent to qualified corporate attendees within one week of attending the webinar.
< BACK TO LIBRARY
Subscribe to receive latest insights directly to your inbox
Subscribe Now
Back to top