300+

Professionals

28

Offices

14

Countries
Your Partner for Growth in Asia
Dezan Shira & Associates is a pan-Asia, multi-disciplinary professional services firm, providing market entry, legal, accounting, tax, HR, technology and operational advisory to international investors.
Latest News
December 01, 2020
Our Suzhou Team Moves into a New Office Location
Dezan Shira & Associates' Suzhou team recently moved into a new office.  Located in the Modern Media Plaza Center, our new office space is part of Office Star's co-working space. With large communal areas, incredible city views, and modern conference/meeting rooms, our new location allows us to accommodate our growing operations in Suzhou and provide […]
November 10, 2020
Ines Liu Partners with Innovation Norway for Market Entry Strategy Workshop
Recently, Ines Liu, International Business Advisory Manager in our Beijing office, had the opportunity to work together with Innovation Norway to host an online workshop for Norwegian companies on market entry in China. This workshop provided professional guidance to investors, as part of Innovation Norway's long-standing mission to help Norwegian enterprises facilitate business development in […]
October 19, 2020
Discussing the Effects of the Trade War and COVID19 − 5th Annual Manufacturers' Forum of the OWC, Frankfurt
Riccardo Benussi, Head of European Business Development at Dezan Shira & Associates, participated in the 5th Annual Manufacturers' Forum on September 25th in Frankfurt, Germany this year. With the impacts of the ongoing Trade War and COVID-19 on business globally, Riccardo discussed commercial implications of localization, best practices, and what course of action an SME should start implementing, with around 55 leading representatives of manufacturing companies and professionals.  To […]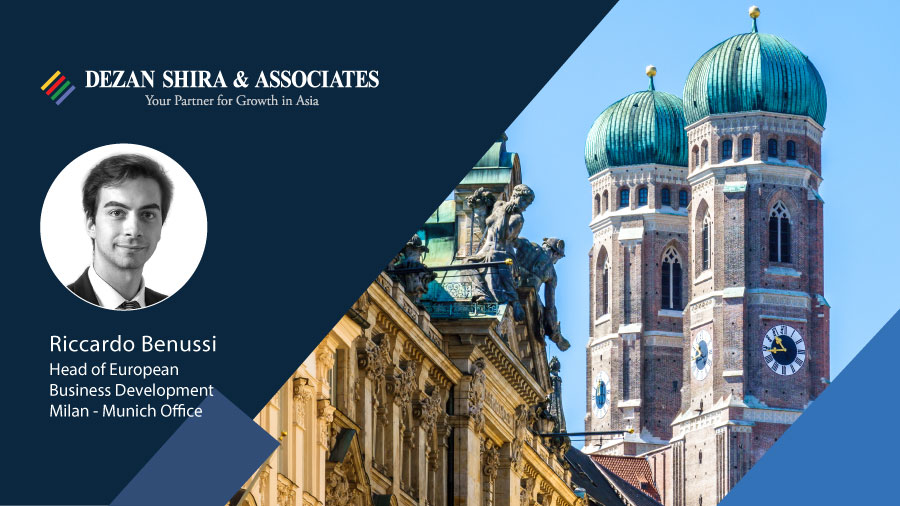 September 17, 2020
Dezan Shira & Associates Expands its Reach in the EU with Riccardo Benussi
Riccardo Benussi will lead Dezan Shira & Associates' business development efforts in the European Union (EU) from his new base in Munich, Germany. From this location and in his new capacity, Dezan Shira & Associates, a leading foreign direct investment professional services firm in Asia, will be able to expand its reach, address client needs, […]
Our collection of Asia resources at your fingertips
Asiapedia is a collection of resources based on what we have learned about doing business in Asia. It's the product of more than 300 team members collaborating across 28 offices in Asia, Europe, and North America.