Our collection of resources based on what we have learned on the ground
Pharmaceutical Industry in India
Q&A
India being the largest provider of generic medicines globally, is a prominent and rapidly growing presence in the global pharmaceuticals industry. The Indian pharmaceuticals market has characteristics that make it unique.
Indian homegrown pharmaceutical firms have established dominance and distinction in a once prominently multinational niche.
However, foreign investors planning to start a pharmaceutical business in India need to understand the dynamics of the Indian pharma industry and the opportunities it offers, including obtaining the necessary licenses as well as the legal formalities needed to be fulfilled.
In this Q&A session, we speak with Business Intelligence Assistant Manager Koushan Das to discuss some of the commonly asked questions that we receive from our subscribers related to the pharmaceutical sector in India.
What are the growth drivers for pharmaceutical sector in India?
Below are the primary growth drivers in the Indian Pharmaceutical Industry in 2021:
Improved Medical infrastructure
Pharmaceutical companies in India have increased their spending to tap rural markets and develop better medical infrastructure. Hospitals' market size is expected to increase by US $ 200 billion by 2024. Medical devices industry in India has been growing at a rate of 17 per cent annually, contributing to the growth of this industry.
Increased Health Care Expenditure
The healthcare ecosystem in India is improving in terms of increased health insurance coverage as well as increased government and private sector spending on hospitals. Today, more and more Indian middle-class families are opting for health insurance facilities thereby gaining access to quality medical facilities. This leads to high spending on expensive drugs.
Cost Efficiency
The low cost of production and R&D boosts efficiency of Indian pharmaceutical companies. India's cost of production is approximately 33 per cent lower than that of the US. India is emerging as a leading destination for medical tourism due to its lower cost of treatment. The ability to manufacture high quality, low priced medicines, presents a huge business opportunity for the Indian pharma industry.
Prevalence of Lifestyle Disorders
The Indian population is expected to grow at 1.3% every year. This rise coupled with ever increasing lifestyle disorders like diabetes, depression etc. together contribute to a noteworthy rise in attracting more spending on generics as well as patented medicines. Growing number of stress-related diseases due to change in lifestyle also add to the higher demand for medicines and treatment.
Increasing Investments
India has gained a cumulative foreign direct investment inflow worth US $13.34 billion in the last 15 years – as per the data released by Department of Industrial Policy and Promotion (DIPP). The government has allowed 100% FDI in the pharmaceutical sector under automatic route for manufacturing of medical devices subject to certain conditions.
Government initiatives
The Indian government has realized the true potential of the pharmaceutical industry and has ambitious long-term plans for the industry. Regulations and initiatives like Drug Price Control Order, National Pharmaceutical Pricing Authority, Patents (Amendment) Act 2005 are a true example of government's favourable intervention in the growth of pharmaceutical industry.
What licenses do I require to start a pharmaceutical manufacturing company in India?
Below are some of the common licenses required to start a Pharmaceutical Manufacturing Company in India. These may be dependent on the type of business the foreign entity plans to establish. Some of them may or may not be applicable as per the particular entity type the individual has in mind.
Drug Manufacturing License: The manufacturing drug license is required for the manufacturing of Allopathic, Ayurvedic or cosmetic drugs, among others under the Drugs and Cosmetics Act, 1940. The respective State Government of the particular state grants this license to the applicant.
Drugs and cosmetics License: A drug and cosmetics license is required to carry out a business concerning drugs/ medicines or cosmetics. All types of drugs or cosmetics business fall under the Drugs and Cosmetics Act, 1940, including allopathic, homoeopathic, ayurvedic or unani.
Wholesale Drug License: A wholesale drug license in India is issued by Central Drugs Standard Control Organization to those wholesalers who are engaged in wholesale business or pharma franchise business in pharmaceuticals.
Retail Drug License: Retail drug license is generally required for running a pharmacy store.
Import of Drugs License: The import drug license is issued for the distribution of imported drugs or using the imported raw materials for manufacturing the pharmaceutical products.
FSSAI license (Food Safety and Standards Authority of India): FSSAI registration or license will be required if one is dealing in food and dietary supplement products along with pharmaceutical products.
Loan Drug License: The loan drug license is issued to those who do not have their own land for manufacturing their drugs but want to manufacture the products and services by their brand name on land of those for which the license has been taken.
Form-11 license: A Form 11 is granted for the import of small quantities of drugs for the purposes of examination testing or analysis.
Form-29: It is a license required to manufacture drugs for the purpose of Examination Testing and Analysis.
Other registrations like Goods and Service Tax (GST) Registration, Company or Firm Registration, Trademark registration will also be required to start a pharmaceutical firm.
What are the incentives available under the PLI scheme for the pharma sector in India?
The PLI scheme for the pharma sector in India aims to contributing to domestic demand and employment, besides exploring the untapped potential in this sector, to grow in size and scale with the help of cutting-edge technology and investment capital that will allow it to move up the global supply chain of medicines.
Under the Production Linked Incentive (PLI) Scheme for Promotion of Domestic Manufacturing of critical Key Starting Materials (KSMs)/ Drug Intermediates and Active Pharmaceutical Ingredients (APIs), 47 applications with committed investments of US $729 million have been approved.
Export of Drugs and Pharmaceuticals was valued at US $2001.78 billion in August 2021 with a positive growth of 1.21% over exports of US $1977.76 billion in August 2020.
The scheme will last for a duration of nine years from 2020-21 to 2028-29 for the purpose of creating a wide range of affordable medicines for consumers.
In six years, from 2022-23 to 2027-28, the government expects India's pharmaceutical sector to produce high-value products, as well as increase the value addition of its exports. Expected production of incremental sales worth US $40 billion and incremental exports worth US $26 billion will be possible due to the opening of 20,000 direct and 80,000 indirect jobs for both skilled and unskilled laborers.
In addition to accessibility and affordability, the medicinal products should also promote innovation and high-tech development that can suit the needs of emerging medical technologies, such as in-vitro diagnostic devices.
What are the major pharmaceutical manufacturing clusters in India?
Andhra Pradesh, Gujarat, Maharashtra, and Goa are the major pharmaceutical manufacturing clusters in the country.
The bulk drug clusters are located primarily in Ahmedabad, Vadodara, Mumbai, Aurangabad, Pune, Hyderabad, Chennai, Mysore, Bangalore, and Visakhapatnam (Vizag).
The pharmaceuticalhubs offer investment opportunities in the production of API or bulk drugs, biosimilars, vaccines, nutraceuticals, as well as food and drug testing and contract research.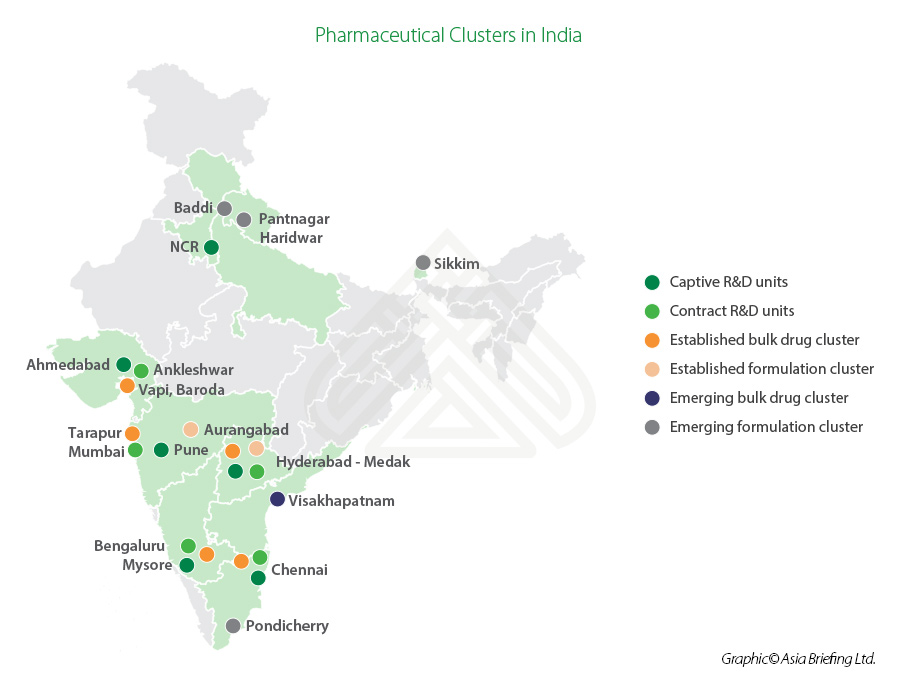 | | |
| --- | --- |
| State/UTs | Number of of pharma units |
| Andhra Pradesh | 261 |
| Arunachal Pradesh | NIL |
| Assam | 25 |
| Bihar | 89 |
| Chhattisgarh | 31 |
| Goa | 51 |
| Gujarat | 3332 |
| Haryana | 31 |
| Himachal Pradesh | 555 |
| Jammu & Kashmir | 55 |
| Jharkhand | 44 |
| Karnataka | 376 |
| Kerala | 100 |
| Madhya Pradesh | 267 |
| Maharashtra | 929 |
| Manipur | NIL |
| Meghalaya | NIL |
| Mizoram | NIL |
| Nagaland | NIL |
| Odisha | 18 |
| Punjab | 156 |
| Rajasthan | 128 |
| Sikkim | 45 |
| Tamil Nadu | 514 |
| Telangana | 523 |
| Tripura | 6 |
| Uttarakhand | 220 |
| Uttar Pradesh | 408 |
| West Bengal | 180 |
| Pondicherry | 86 |
| Andaman & Nicobar Island | NIL |
| Chandigarh | 5 |
| Delhi | 63 |
| Dadra & Nagar Haveli and Daman & Diu | 34 |
| Lakshadweep | NIL |
| Total | 8532 |
*Note: As on May 29, 2020.
To get more information on India's pharmaceutical industry or about the key investment sectors in India, please do not hesitate to contact us.
Our Business Intelligence team would be happy to answer any of your business-related queries.
< BACK TO LIBRARY
Subscribe to receive latest insights directly to your inbox
Subscribe Now
Back to top