Our collection of resources based on what we have learned on the ground
India-South Korea Investment Trends
Infographic
India-South Korea relations have made great strides in recent years. Bilateral cooperation covers a range of sectors, including energy, electronics, shipbuilding, information technology, cybersecurity, etc. Spurred by significant convergence of interests, both India and South Korea have been working on integrating the goals of India's "Act East Policy" and South Korea's "New Southern Policy".
South Korean investments in India
In 2020, Korea's investment in India stood at US$51.9 billion, registering a 16 percent increase over the previous year's US$44.7 billion. 66 new South Korean corporations were established in India in 2020. This volume of investment could be connected to the Indian government's Production Linked Incentive (PLI) schemes announced for several sectors.
In particular, the inflow of funds from large Korean corporations, such as Samsung, accounted for 57.2 percent of the total investment.
Among Korean companies that have invested in India, Hyundai Motor Group, Samsung Electronics, and LG Group lead the bunch. Other important Korean companies with a sizeable presence in the Indian market include Hyundai Motors and Kia Motors.
In the below infographic, we analyse the FDI coming from South Korea to India and see how the numbers have increased progressively (general trendline) from 2013 to 2020.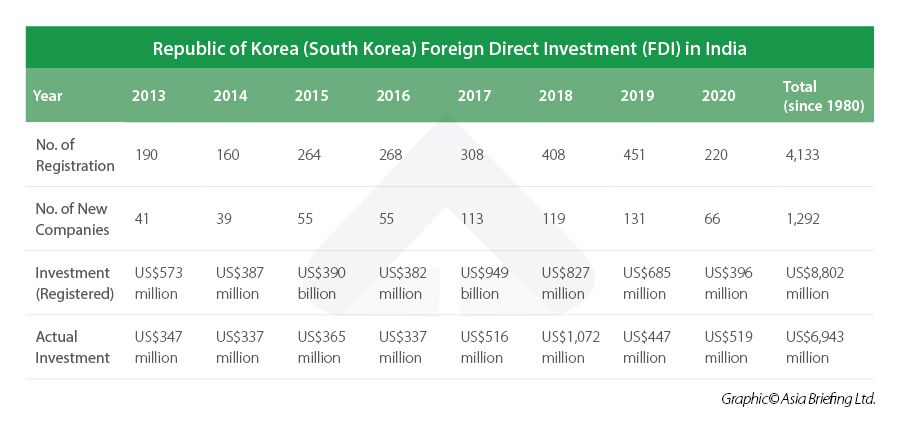 Indian investments in South Korea
While India's investment in Korea has been slow since 2013, its investment in 2019 recorded US$96.66 million, marking a huge surge from US$2 million in 2018. However, it again fell to US$1.43 million in 2020. Some major Indian investors in South Korea are Novelis Inc., a subsidiary of Hindalco Industries Ltd, Tata Motors Limited, Mahindra and Mahindra, and Nakhoda Ltd etc.
The below infographic shows the FDI trend from India to Korea between 2013 to 2020 along with number of registrations.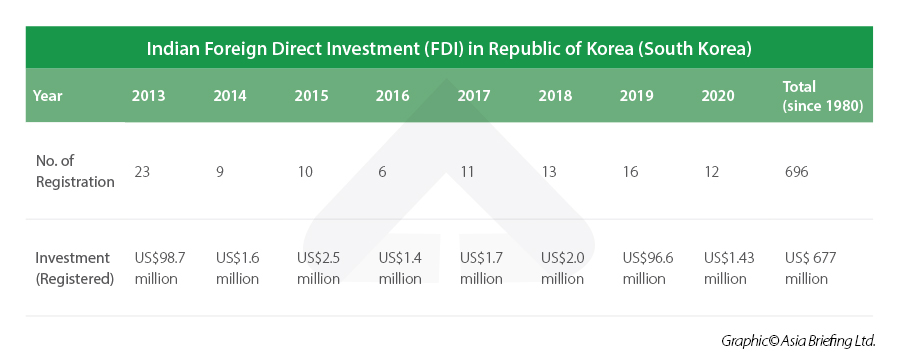 < BACK TO LIBRARY
Subscribe to receive latest insights directly to your inbox
Subscribe Now