Location Analysis and Site Selection

Empowering you with vital investment information.
Choosing a location is particularly challenging in emerging Asia as the factors affecting site selection are rapidly changing. Everything from labor costs, logistics, customs practices, and the state of infrastructure in East Asia, Southeast Asia and India are evolving.
Location analysis and a strategic site selection plan can have a major impact on the success of a business, affecting production, operations, and sales. Companies must take steps to ensure they have the right information before committing time and money.
Dezan Shira & Associates has helped foreign firms and organizations overcome various market entry and expansion challenges. Through in-depth research and analysis, we provide clients with the ability to better understand their options in new markets and make informed decisions on where to invest.
We offer market entry and expansion reports for clients in China, India, and ASEAN. These help clients assess industrial zones based on their preferred criteria, including locational advantages such as proximity to ports, integration with industrial clusters, minimum capital requirements, availability of required land and facilities, as well as available tax incentives.
Advantages of Business Intelligence
Better Cost Models
Understand various costs, taxes & incentives, as well as identify average salaries and social benefit costs across target locations to optimize your pricing model.
Robust Supply Hubs 
 Select Hubs that live up to their supply chains and logistics models. Learn about major infrastructure and transportation options and the ease of accessing customers and suppliers.
Target Locations & Real Estate
Select from more suitable geographic , and then review detailed options for rental or purchase, utility costs, incentives, and amenities.
Explore further:
How our business intelligence helps companies find the optimal location for their expansion in Asia
To find the right location, the first phase would involve identifying the location needs and setting the search metrics. An initial screening for potential sites based on the search metrics will follow.
When the first phase is complete, a report with data metrics and analysis of property options will be sent to the client.
Key features of our process in phase one include:
Real estate: What is the rental or purchasing cost? What is the most suitable location? What about site and building amenities as well as utilities?
Connectivity: What are the major infrastructure and transportation options and how easy is it to access customers and suppliers?
Workforce: What is the availability of skilled or non-skilled labor? What are the average salaries and how much does social insurance cost?
Regulations: What certifications are needed? Are there any tax and policy incentives available?
In phase two, our business intelligence teams will assist you in shortlisting the most suitable locations, and provide a "best-fit" analyses on the top matches in the form of a final report. If you wish to proceed, we will then schedule site visits, and subsequently facilitate real estate negotiations and a formal due diligence.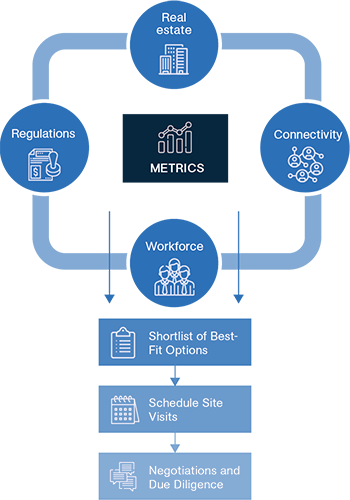 Benefits
How our Location Analysis and Site Selection Service can help you better assess your expansion options:
By leveraging our Asia-wide operational experience and extensive industry networks, we help you identify the optimal location for your next expansion move
By drawing on the expertise of our in-house lawyers, accountants, HR, tax and business experts, we help you identify red flags and eliminate unsuitable locations
By employing our proven business intelligence methodology, we help you make informed decisions when choosing your next investment location
Enquire for more information about our services, and how we can help solve challenges for your organization
Contact Us