Navigate Supply Chain Disruptions and Mitigate Future Risks

Empowering you with diversification and continuity.
Rising on the back of increasing labor costs in China, the Sino-US trade war, and COVID-19-related supply chain and manufacturing disruptions, it is time to rethink whether it is still adequate to rely on your current suppliers or single country sourcing strategies.
Your international business requires that you ensure business continuity despite these challenges, by developing better options, mitigating associated risks with milestone assessments, and designing plans for diversification. These processes also act as tools to leverage for an improved competitive position and growth, through the identification of better partners, and by penetrating new markets.
Whether you are looking to diversify sourcing and production by expanding to China's second tier cities, or to alternative or additional locations elsewhere in Asia, we can assist by implementing strategies that mitigate risks and secure your business operations for the future. With almost three decades of on-the-ground experience in Asia, Dezan Shira & Associates supply chain re-engineering solutions are tailor-made to meet your specific circumstances and requirements.
Advantages of Supply Chain Re-Engineering
Assess Supply Chain Risks
Identify areas of risk exposure to potential geopolitical and local changes that can affect supply production and logistics.
Identify Qualified Partners
Quickly identify alternative sources for your goods or materials which are vetted and optimized for your needs.
Achieve Continuity Readiness
Achieve readiness to shift sourcing to one or many countries or hubs as the need arises.
Supply Chain Re-Engineering solutions
Secure capacity and stability
If you are a company looking to consolidate your existing supply chains within China, or elsewhere in Asia where they are currently concentrated, we can help you to secure capacity and stability for the future by:
Conducting an audit of your existing supply chain and providing action plans and risk mitigation strategies.
Suggestions for implementing corrective action and a business continuity plan to mitigate potential future disruptions to your existing supply chain.
Identifying alternative suppliers and production hubs in second tier cities within China, or alternative locations within the countries, where your current suppliers are located and arranging meetings with partners of interest; and providing on-site support.
Conducting due diligence of all identified new suppliers.
Alternative sourcing locations and production hubs
If you are looking to diversify and optimize your supply chains by implementing alternative sourcing strategies, then we can also assist you by: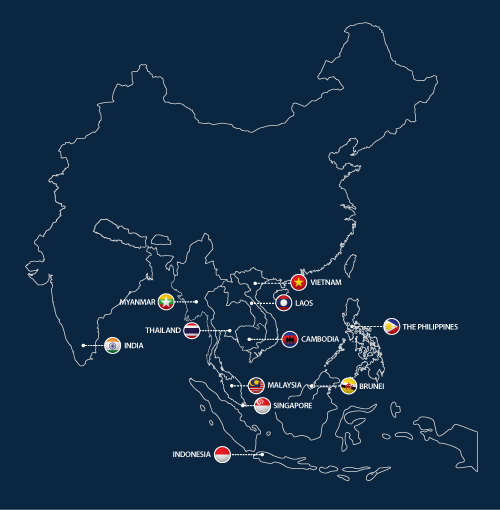 Assessing and advising you regarding optimal alternate sourcing locations and production hubs for your products and input materials - with costs in perspective.
Identifying suppliers in newly selected markets such as in Vietnam and India, arrange meetings with partners of interest, and provide on-site support.
Conducting reputational due diligence of all identified suppliers in new markets.
Analyzing Free Trade Agreements (FTAs) to help you leverage the preferential tariffs that are on offer in certain countries such as the member states of the Association of Southeast Asian Nations (ASEAN).
Providing tariff engineering advice to help you adjust the origins of your goods to limit tariff exposure and maintain healthy margins.
Conducting labor market studies to help you or your contract manufacturers make better informed decisions on where to locate alternative production facilities and integrate into the supply chain as seamlessly as possible.
Carrying out political risk assessments to help you manage crises, or to mitigate risks and secure your future operations in the face of geopolitical uncertainty.
Monitoring regulatory changes that could potentially impact your supply chain.
Enquire for more information about our services, and how we can help solve challenges for your organization
Contact Us
Back to top