Procurement Success Summit 2022
Summit | November 17 2022 - November 18 2022 | Shanghai
Register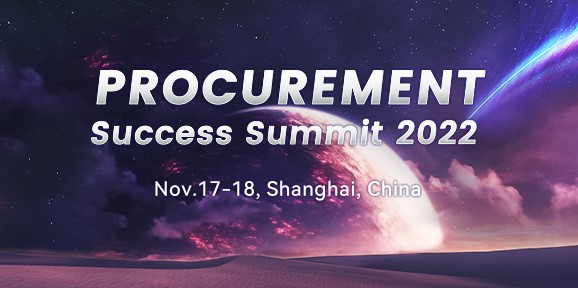 Uncertainty remains high for procurement and supply chain in 2022. Russia-Ukraine War, China's lockdowns, Semi-conductor shortages… more than ever, the strategic role of procurement management is mission-critical to thrive in the future of business, or, in some cases, survival. Add into the mix labour shortage, wage rises, material shortages, and material price rises as well as diversity and inclusion, sustainable sourcing and environmentally responsible supply chains, and procurement leaders will find that simply 'buying better' in 2022 won't be enough to navigate the year ahead
PSS2022 will invite 500+ procurement peers who are tackling the same challenges and explore how to turn crises into opportunities by making procurement functions more reliable and resilient to drive revenue generation. The 2-full-day agenda will discuss digital transformation, sustainable purchasing, ecosystem partnership in the supply networks, strategic category management, procurement perspectives, etc.
Hot Topics:
Russia-Ukraine War, China's lockdowns, Semi-conductor shortages, Inflation…
How to mitigate the impact of unrelenting disruptions on your global supply chain?
Break the barrier of collaboration: Shift thinking from changing cost-based way to value-based way.
Reach next-level procurement through digital value.
Good practices to promote supplier diversity programs in China.
Case Study: Carbon Neutrality Action.
Driving value through strategic category management.
How to be a strategic & agile business enabler.
Localization vs RE-LOCALISATION, Globalization vs DE-GLOBALISATION
Europe vs Asia Dialogue: How has the Asian / European Supply Chain & Procurement landscape evolved in the last years and what will the next 2-3 years bring?
Attendees:
500+ procurement executives (66%+ attendees are director level and above)
280+ enterprises
40+ guest speakers
Register for the event on the link below
Back to top